Edstaston Charollais Sheep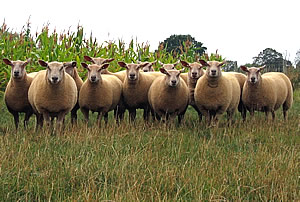 Edstaston Charollais Ewe Lambs
"Charollais Sheep we believe tick more boxes than any other terminal sire."
Robert Gregory and his wife Jeanette started the Edstaston flock of Charollais Sheep in 1987 with the importation of Charollais ewe lambs and Charollais ram lambs from some of the top Charollais sheep flocks in France namely A19, E2 and P2.
Edstaston Charollais specialise in producing top quality recorded Charollais sheep rams and Charollais sheep ewes for the pedigree and commercial sheep farmer.
The Edstaston Charollais sheep flock has been recorded with Signet now for the last twenty years and over those years we have seen a gradual increase in both growth rate and muscle depth while at the same time a reduction in fat levels. Our aim is to produce Charollais sheep with good tight skins, long wide loins and deep full hind quarters that flesh up naturally off grass without the need for vast quantities of concentrates.
A great advantage of Charollais sheep is their ease of lambing leading to being quickly on their feet and suckling. This in turn will lead to great savings for the commercial sheep farmer in terms of labour requirements at lambing time.
Edstaston Charollais sheep attend a small number of select shows and see showing as a very important shop window and a great chance to meet both pedigree and commercial sheep farmers. Over the years Edstaston Charollais have had a great deal of success in all the shows they have attended with the highlight probably being the Supreme Champion Charollais at the Royal Welsh Show in 2004 along with the Interbreed Pairs Championship (in partnership with the Castellau flock) and Reserve Interbreed group of three in the same year.
Edstaston Charollais have been the Champion flock every year in the Central Regional Northern Area flock competition since 2006.
In the sale ring Edstaston Charollais have regularly achieved some of the top prices with Edstaston Juno being the highest priced Charollais sheep sold in 2009.
Edstaston Charollais sheep have both Charollais rams and Charollais ewes for sale to suit all types of sheep and all types of pockets.
Edstaston Charollais can also supply Charollais semen to Export quality from some of the top Charollais blood lines in the UK.
Why not come and visit Edstaston Charollais sheep situated in the picturesque village of Harmer Hill, North Shropshire?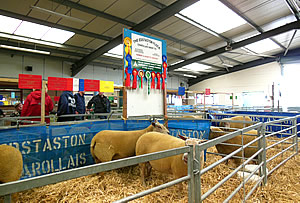 Edstaston Charollais Sheep at the Stafford Show 2013
Edstaston Charollais Sheep
Create Your Badge