History of Edstaston Charollais Sheep
The EDSTASTON CHAROLLAIS FLOCK TG was established in 1986 with the purchase of 2 ewe lambs from the E2 flock in France. The following year we arranged to visit France through MOUTON CHAROLLAIS (the French equivalent to the British Charollais Sheep Society).
On a whistle stop tour we purchased eight ewe lambs and a ram lamb from the A19 and P2 Flocks. These ewes then formed the basis of EDSTASTON CHAROLLAIS and it is from these bloodlines that most of todays families originate.
From the outset the maxim for the flock was a good growth rate coupled with good fleshing ability and good skins.
Showing started in 1989 at the Shropshire & West Midland Show where both Champion and Reserve Champion went to the EDSTASTON CHAROLLAIS Flock. Champion was our senior ewe E26097 with reserve going to CJ 8003 BOULD FIRST CHOICE who also went on to be 2nd placed shearling ram at the Royal Show.
We also won 1st prize ram lamb at the Shropshire & West Midland Show with TG 9002 who later went on to sell for 3300 gns. at the breed Premier Sale at Stoneleigh 1989.
I regard showing as a very useful tool in advertising the EDSTASTON CHAROLLAIS FLOCK but I will not compromise the type of Charollais I believe in breeding just to win shows, I would stop showing first. Chasing size at the expense of confirmation is not an option.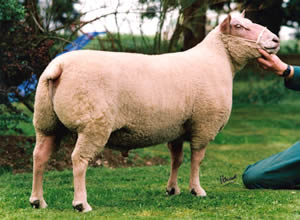 Edstaston Jethro TG 3019
The Flock has been SIGNET recorded for many years with the objective being to produce a ram with figures that was also good looking. One such ram was EDSTASTON JETHRO TG 3019.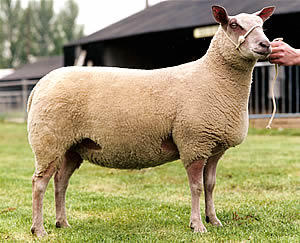 Edstaston Emerald TG 5021
Among the Charollais breed one of my favourites was MANXMAN NESSIE BS 6007 who played his part during the formative years. He produced many show winners including EDSTASTON EMERALD TG 5021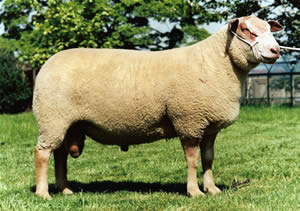 Edstaston Rufus TG 7026
More recently EDSTASTON RUFUS TG 7026 who in 1998 after winning Interbreed Champion at Shropshire & West Midland went on to win the Charollais Premier Sale at Lichfield and sold to the judge of the day, Tim Prichard CASTELLAU Flock for 2050 gns.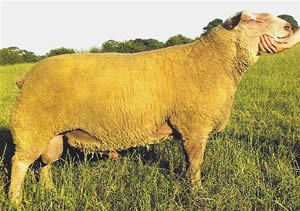 Tulleyear Egbert QY 4007
A daughter of EDSTASTON RUFUS TG 7026 namely TG 2053 was sold to Drew Cowan for his TULLYEAR Flock in Northern Ireland at our Worcester Female Sale in 2003. TG 2053 who was in-lamb to ARJANE CAVANAGH ZRF 2032 produced a ram lamb TULLYEAR EGBERT QY 4007 who has been widely used both in Ireland and the rest of the U.K. We were so confident in him that we have also used him in the EDSTASTON flock.
Progeny of SCRATCHMERE SENATOR have also had a part to play in EDSTASTON CHAROLLAIS and I regard him as one of the most influential sires the Charollais breed has ever known.
When buying rams the first thing I look for is a good tight skin. The ram must also have length and good muscling. The breeding and index then come into the equation in so much as I will not purchase a ram whose breeding will not suit our ewes. As regards to indexing I will not purchase a ram with a poor index but it does not necessarily have to be exceptionally high. In short if I like the ram on looks and breeding a good index is a bonus.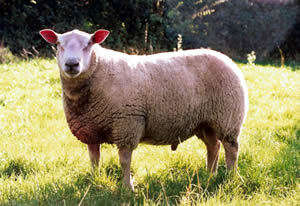 Dalby Aramis PE 0014
DALBY ARAMIS PE 0014 was purchased at Lichfield Premier Sale 1n 2000 for 2300 gns. from Charles Sercombe. This ram has had a tremendous impact on EDSTASTON Charollais over the later years producing not only EDSTASTON DENZIL TG 3029 but a host of females that look good as lambs and go on to make tremendous stock ewes. These ewes are also breeding very well and consistently.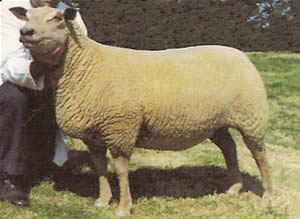 Edstaston Princess TG 1040
One such example is TG 1040 EDSTASTON PRINCESS who sold to Harold Keast in 2002. Over the years she has won 6 Breed Championships, 5 Female Championships, 3 Interbreed Championships, 3 Reserve Championships and 1 Supreme Championship. We are pleased to announce that at the recent dispersal sale of the TRINTY LEIGH Flock EDSTASTON PRINCESS TG 1040 was bought back.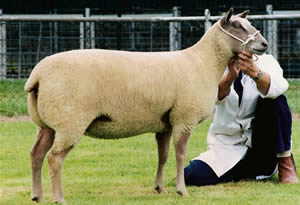 Edstaston Brandysnap TG 1069
The following year we produced another very successful show ewe namely EDSTASTON BRANDYSNAP TG 1069 whose grand dam was EDSTASTON EMERALD TG 5021.
EDSTASTON BRANDYSNAP has bred very well for us with her ram lamb TG 6046 EDSTASTON GENERAL DE GAULLE selling for 1700 gns. at this years Worcester Premier Sale to Nick Hart for his LANGSTONE Flock. Her ewe lamb EDSTASTON GINNY TG 6045 has also performed well having won her class in all three shows she attended.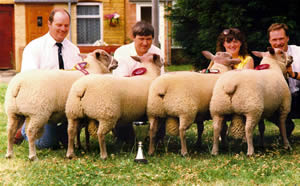 Champion Pen of Ram Lambs Banbury Premier 1994
Over the years we have made use of semen available from some of the top rams in the Charollais breed. We used HUNTER JUNIOR PY 0066
in 1993 and this resulted in us winning the Elite Livestock Trophy for the Champion Pen at Banbury Premier Sale 1994.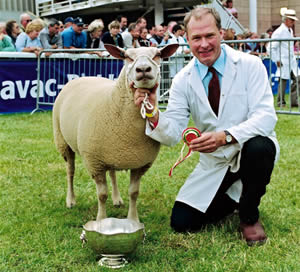 Edstaston Dubai TG 3050
Laterly we used WESTONVALE JUBILEE XBB 9016 and the resulting crop of lambs produced for us in my opinion the best female we have ever bred namely EDSTASTON DUBAI TG 3050.
DUBAI has won numeous Championships over the years but the most satisfying must be the Royal Welsh in 2004 pictured above.
Many other sheep purchased from us have gone on to achieve fame and fortune for not only themselves but their off-spring as well. Our congratulations must go to David Roberts BOYO Flock whose Champion of Champions 2006 BOYO FORGET-ME-NOT was bred from an EDSTASTON ENSIGN TG 7071 daughter purchased from us at our Worcester sale in 2002.
A visit from Chris & Fran Blunt
On Thursday 12th June 2008 we received a visit from Chris & Fran Blunt from New South Wales, Australia.
They were looking at a number of Charollais flocks in the U.K. with a view hopefully in the future of importing some U.K. genetics into Australia.
I think they were quite impressed with the scale and shape of the Edstaston Charollais flock.
Edstaston Charollais are proud to announce:-
that we have just been awarded the Runners Up slot in the National Flock Competition 2008 which was judged by Drew Cowan, Tullyear Flock, Northern Ireland.

This came after we had won Overall Champion Flock in the Central Region which included prizes for Champion Shearling Ewes, Champion Ewe Lambs and our stock ram Parkgate Highlander ZCA 7036, jointly owned with Abbie Moseley, won Champion Ram.
Picture opposite is of Mr Drew Cowan presenting Robert with the Reserve National Flock Award.